Now available to the public – the perfect product for the professional contractor, maintenance company or council
Testimonials & Photos
Testimonials
With a rapidly growing, UK wide customer base of councils, contractors, sports clubs & now "domestic users " Simply Gone is being used to effectively treat a wide range of hard external surfaces.
Commercial Use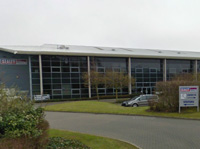 I would like to thank Maud and the Chapman Draper team for their excellent customer service supplying Simply Gone for use on our company car parks. We have a large area of block paving and suffer from the growth of both weeds and moss in the joints. Research informed us that we would require a systematic approach to control of both weeds and moss using different chemicals to control each. Having investigated possible solutions we settled on Simply Gone for moss control and having now used it for the past 2 years, applying 100 litres of Simply Gone mixed as recommended, three times a year have found it to be a most effective method of moss control. Iain Whitmore, Sealey Power Products, Bury St Edmunds
Photos from Sharon & Chris from Chessington
Before Spraying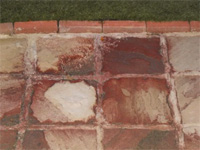 After Spraying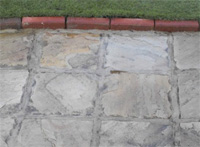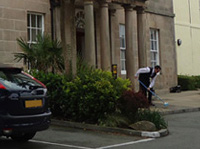 "We find Simply Gone very easy to use and extremely effective and great value for money, great for patio areas, stoned areas, and walls."
Nicola Griffith - Celtic Royal Hotel, Caernarfon www.celtic-royal.co.uk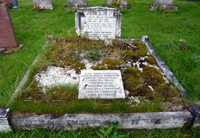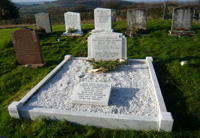 "I bought a large container of Simply Gone from you. These photos will show you the result. My husband and I applied the diluted product, as instructed, and left it for a few months to do its work. We returned with a bucket of cold water and a scrubbing brush to improve some staining and we were surprised that it all came off very easily." Averil Brice, Folkestone, Kent
"As you can see in the photo Simply Gone is working very well up here in the Isles. The left side of the wall was sprayed 3 days before the picture was taken, the right side not sprayed" Graeme McDonald, Lerwick, Shetland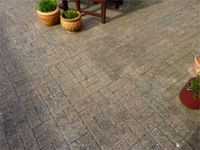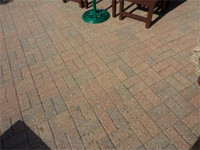 Earlier this year I bought Simply Gone cleaner. Because of the filthy state of the patio I did apply a second coat a couple of months later. I am so impressed with the result that I thought I would send you "before" and "after" photos.
I would certainly recommend this product." Colin Sheppard, Gosfield
"Thank you for the prompt delivery of a further supply of Simply Gone. This has been the most effective treatment I have used for eliminating & controlling algae & moss on our patio, fences and garden furniture so much so that I have been using it for family and friends as well" Steve, Cheshire
"You recently sent to me a 1ltr bottle of Simply Gone. I applied it to my Indian stone patio which was a delicate shade of green and five days later all the green had gone. My neighbour was so impressed that he pinched the remaining half bottle" Mr Hall, Leeds
"It saves so much time and water not having to powerwash my shadey paths, just a quick spray every 6 months and the jobs done" Emma, Northants
"I am delighted to know that not only is it keeping my yard free from algae & moss but also disinfects the area too" Mr N Turner, St Neots
"I have tried many products but the benefits of a professional solution has made it easy keeping my tarmac paths moss free, thank you Simply Gone" David, Beds
Photos of Simply Gone in action on...
Block paving, house wall, concrete & stone patio slabs, wooden fence, gravestone
Just diluted, apply and 'let the weather do the work', no scrubbing or power washing needed. Simply Gone has a cleaning effect that is gradual and continues over time depending on the surface being treated- here`s what you can expect:
Photos from customer - Colin Sheppard from Gosfield, Essex
Before treatment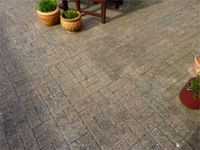 After treatment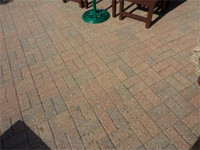 Removing and cleaning algae from rendered house wall
Before treatment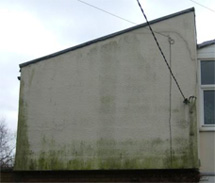 gradual cleaning after spraying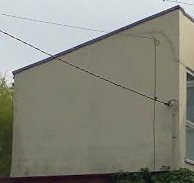 several months later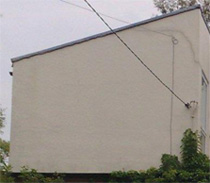 Cleaning algae, lichen and dirt from gravestone
Before spraying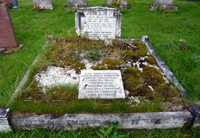 several months later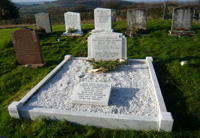 As the leading name in algae, moss and fungi removal and prevention, Simply Gone has helped gardens up and down the country in creating safer, more attractive landscapes for all that have used it.
Easy-to-use and unprecedented results, we maintain close and strong relationships with all our customer and we appreciate every success story we receive. We are proud to be held at such a high regard across a number of industries, as well as on a domestic front.
Mrs East - Achieving Natural Results
One such satisfied customer was Mrs East, who was looking for an effective patio cleaner. Useable on both new and old external surfaces, Mrs East was very impressed with the results and the value for money that Simply Gone produced and cannot speak more highly of it.
After purchasing a 1ltr bottle of Simply Gone in October 2012, she then sprayed this on a test area of her patio. She was able to leave this over the winter before really seeing the results in the early spring of this year and couldn't have been more thrilled.
Its gradual cleaning properties were superior to the previous work she had undertaken, paying £400 to power wash her large patio and pathways, totting up a total of 16 hours labour plus a £50 water bill and removing the grout from her patio
Affordable, Effective & Efficient
Using Simply Gone now, it is a simple case of diluting and spraying her patios & paths with a 5 ltr bottle, spraying 2-3 times a year. Cleaning her octagon conservatory now takes 20 mins as appose to 4 hours and 2 sprays a year is all that's needed to keep it looking great.
A cost-effective, quick cleaning agent, Mrs East's professional handyman continues to promote Simply Gone due to its 'green and friendly' approach to patio, fence and conservatory cleaning.
For more information on Simply Gone and its benefits, or to order your supply today get in touch with us on 01767 691 270 or contact us online.